A Árvore de talentos de Ataque é um dos três ramos de talentos. Todos talentos foram redesenhados em 15 de novembro de 2011. As informações deste artigo refere-se à versão desta árvore utilizado desde o redesign.
Foco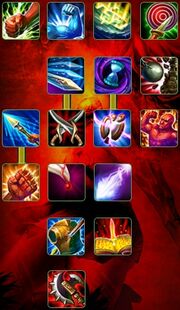 Seu foco principal é dar vantagem para ações ofensivas e aumentar stats como danos físicos, danos de magia, ataque crítico, penetração da armadura, penetração da magia, roubo de vida, entre outros buffs. As magias do invocador: Exhaust, Ignite, Surge, e Ghost são melhoradas pela Summoner's Wrath desta árvore de talento. Seria necessário ter 44 pontos para preencher ao máximo a Árvore de talentos de Ataque.
Lista de Talentos
Summoner's Wrath
Brute Force
Mental Force
Butcher
Alacrity
Sorcery
Demolitionist
Deadliness
Weapon Expertise
Arcane Knowledge
Havoc
Lethality
Vampirism
Blast
Sunder
Archmage
Executioner
Ad blocker interference detected!
Wikia is a free-to-use site that makes money from advertising. We have a modified experience for viewers using ad blockers

Wikia is not accessible if you've made further modifications. Remove the custom ad blocker rule(s) and the page will load as expected.